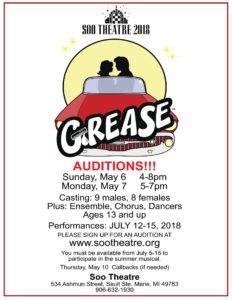 "Grease" is the word for 2018. Soo Theatre will be producing this wildly popular musical. The movie sensation featuring John Travolta and Olivia Newton John will live in infamy as one of the most classic movies in cinematic history. Adapted for the stage before it was brought to cinema, this show sells out venues nearly everywhere it goes. Experience the friendships, romances and adventures of a group of high school kids in the 1950s as we bring this story to life on Soo Theatre stage. Let's fill our house July 12-15 and feel that "Summer Lovin' with the musical "Grease!"
The cast in order of appearance is Mrs. Lynch – Mary Anne Nakamura; Secretary – Cindy Smith; Patty Simcox – Ariana Atkinson; Eugene Florczyk – Ross Malaska; Jan – Amy Clegg; Marty – Sydney Kuenzer; Betty Rizzo – Emma Mansfield; Doody – Riley Wilson; Roger – Mason Stierley; Kenickie – Samuel Cox, Sonny LaTierri – David Weber; Frenchy – Elizabeth Curtis; Sandy Dumbrowski – Lola Kennedy, Danny Zuko – Matt Gilbertson; Johnny Casino – Gerry Boire; and Cha-Cha DiGregorio – Gabbie Pepin.
Teachers and chaperones at Rydell High School will be played by Caroline Dukes, Nancy Kirkpatrick, Wayne Thompson, & Stephanie Vert.
Elaine Anderson, Carrie Gregg, Betsy Huggett, Danielle Forsythe, Ashley Kasper, Karly McClean, Theresa McCready, Abby McDowell, & Miranda Schomberg will be students of the beauty school in addition to students of Rydell.
Rydell cheerleaders will be played by Ava Donmyer, Tyler White-McDowell, Lilian McKee, & Caitlyn Stevens.
The "Grease" ensemble is rounded out by the talents of
Trinity Bauer, Sally Boire, Ellah Deeghan, Shelby McGlinch, Erin Pendygraft, Ginger Stratton, & Stephanie Uhlmann.
Don't forget: Summer Camp registration is well under way and camps are filling fast! If you plan to attend, you'll want to reserve your space early. Check out our summer camp flyer and descriptions on our website. Registration for summer lessons is also open now. Registration for fall lessons and classes will be coming soon! Watch here and on our website for more details.
The Northland Barbershop Chorus is in the house this Sunday, June 3rd at 3pm. Don't miss this fun production highlighting local history!
Save the date! The 350th Musical Celebration will be held at the Soo Theatre on Thursday, June 21 at 7:30pm. Song selections submitted for the contest will be presented, along with other songs about "Home."
Soo Theatre Project, 534 Ashmun Street, SSM 49783 (906) 632-1930, www.sootheatre.org.
Soo Theatre… where there's something for everyone!