EXTRA!  EXTRA!  Read all about it!  
"Annie" Auditions Saturday!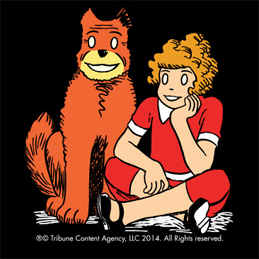 Calling all orphans for this Saturday's casting call for the upcoming STARS production of "Annie."  The Soo Theatre will present a semi-staged version of the classic stage show put on entirely by kids the last weekend of April.  But before that happens, we need to cast the show!
Auditions will be held this Saturday, January 31, at 11am at the Soo Theatre.  Auditionees should arrive at the main lobby of the theatre at 11 and fill out an audition form. The kids will then audition as a group.  They will be taught a song from the show, learn a few simple dance steps and read some lines.  Those interested in just a speaking part will be able to just read some lines for us. This is not required for those who would just like to sing in the chorus.
We are encouraging kids of all ages and levels of experience to take part in this show.  It is the perfect opportunity to try out being in a show first hand.  During the rehearsal period the cast will learn techniques for singing, acting and performing choreography (dance) on stage.  They will also learn how to work as a team and may even learn about behind the scenes aspects of theatre.  No one will be pressured to sing alone in the audition.  However, if they are auditioning for Annie or one of the other singing roles, they should plan to sing part of the song alone.
The roles that we will be casting Saturday include Annie, Molly, Tessie, July, Duffy, Kate, Pepper and other orphans in the orphanage; the servants, Drake, Mrs. Greer, and Mrs. Pugh.  Some speaking roles will also need to be cast, including Bundles, a chauffeur, Louis Howe, an apple seller and the dog catcher.
The roles of Daddy Warbucks, Grace Ferrell and Miss Hannigan will be played by STARS high school students Eric Donarski, Gabbie Pepin and Hollyann Beck.  The roles of Lily and Rooster are still available and would be suited to high school or junior high kids.  Parents can even jump in on the action and sing with their kids, perhaps playing a servant or a pedestrian or doing something behind the scenes.
If your child is interested in painting, they might enjoy working on sets and properties for the show.  If your child has a knack for fashion, they might want to be a part of costuming.  If they are into technical things, maybe they would like to run a spotlight or learn about sound.  If any of these important aspects of putting on a show jump out at you for your child or someone you know, encourage them to attend the casting call and sign up to be a part of the fun. Please inquire about these additional opportunities.
A second round of auditions will be held on Monday, February 2 at 3:30p.m. for those who cannot attend the Saturday call.  Please contact Karen Hughes Beacom with any questions or call the theatre at 906-632-1930.