Wicked Woods – OCTOBER 27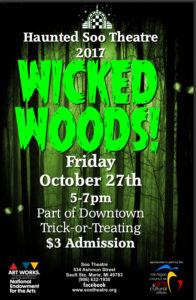 BEWARE! BEWARE! You're in for a SCARE! Walk the halls, if you dare! The historic Soo Theatre will present "Wicked Woods" on Friday, October 27 from 5-7pm during the annual Downtown Trick or Treating event. This year's theme takes a nod from the summer production of "The Wizard of Oz."
But who else will patrons encounter besides Dorothy and her trusty friends? Be on the lookout for ANYONE or ANYTHING that may snarl, howl, or try to scare the wits out of you as you walk by. Something or someone just might be lurking ahead of or behind you. Or is it all in your imagination?
This tour guided event includes uneven surfaces, several stairs, and special effect lighting and sound. It is not recommended for individuals with pacemakers, a history of epilepsy, pregnant women, children in strollers, or individuals with a medical condition making it difficult to navigate the course.
Admission is $3 per person, and tickets can be purchased from the theatre ticket booth beginning at 4:30 pm. Doors will open at 5 pm. Parental discretion is advised.
If the Haunted Theatre is not for you–don't fret! Enjoy the "mannequins" in the windows and then pick up some complimentary popcorn inside Studio D which is located in the Soo Theatre building four doors north of the main lobby. Don't forget to bring your camera to snap some memorable photos.
This always enjoyable, artistic expression event is brought to the community through partnerships with Sault High Drama and Service Students, Girl Scouts from Troop 5158, and dedicated Soo Theatre volunteers.
The Soo Theatre is also looking to downsize its costume inventory. Items available for purchase include ladies formal wear, bridal gowns, and men's jackets. For more information call the theatre office at 632-1930.
TODAY – OCTOBER 21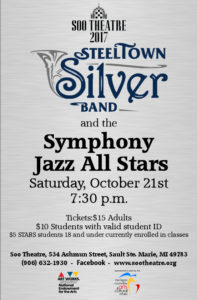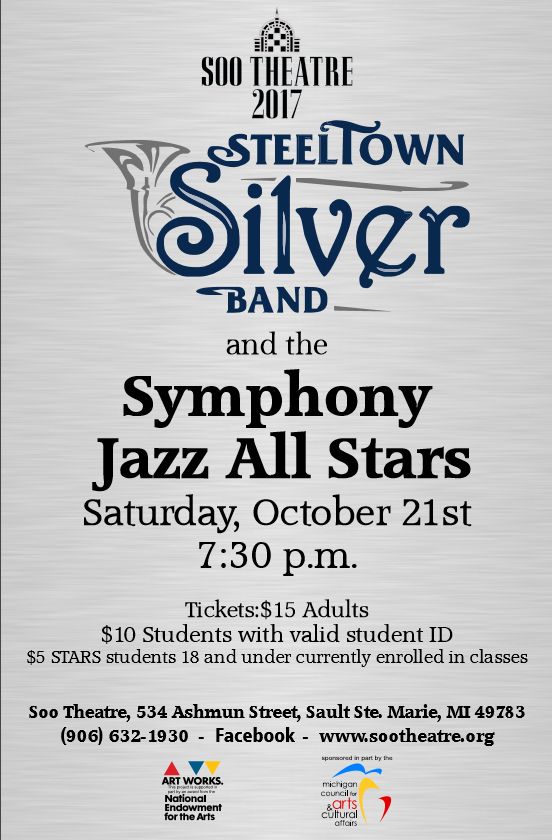 And don't forget to check out Soo Theatre's lunchtime concert series featuring Nashville Recording Artist ANDREW SALGADO at noon and THE STEELTOWN SILVER BAND and THE SYMPHONY JAZZ ALL STARS tonight at 7:30pm. Both of these events happen TODAY, October 21st! There will be tickets available at the door for both of these events.
Special thanks to Michigan Council for the Arts and Cultural Affairs.
Visit our website at www.sootheatre.org, email us at sootheatre@gmail.com or call us at 906.632.1930. There's something for everyone at the Soo Theatre Project!