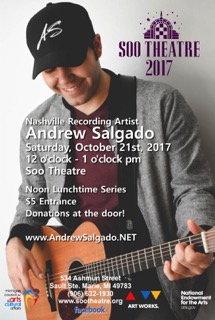 Nashville Recording Artist Andrew Salgado comes to the Soo Theatre to launch our lunchtime concert series on Saturday, October 21, at NOON, of course!
Andrew is the 2013 winner of the Pepsi Southern Original competition, and as an original singer-songwriter has opened for or co-written with Darryl Worley, Carrie Underwood, Toby Keith, Clint Black, Brian Wilson, Kacey Musgraves, and other talented musicians.
Lunchtime concerts will run just around one hour, so you can squeeze in some affordable entertainment as a stop on your Saturday day of shopping, sports or other activities! Stop in and support this up and coming recording artist right here at the Soo Theatre.
Tickets are only $5 and donations will be taken at the door!
Andrew will be stopping at the theater on Saturday during a full weekend in the Upper Peninsula where he will be presenting a program as the National Spokesperson for
www.MusicOverMiles.org
for local schools, be a guest celebrity judge on Dancing with the Stars for Hospice of the EUP (and will be performing a few of his songs!) and perform this special noontime concert.
You can find more about Andrew at his website
www.AndrewSalgado.NET
or connect through @Andrew Salgado on Facebook.
We hope to see you there!
Stay tuned for future concerts at NOON at the Soo Theatre Project.