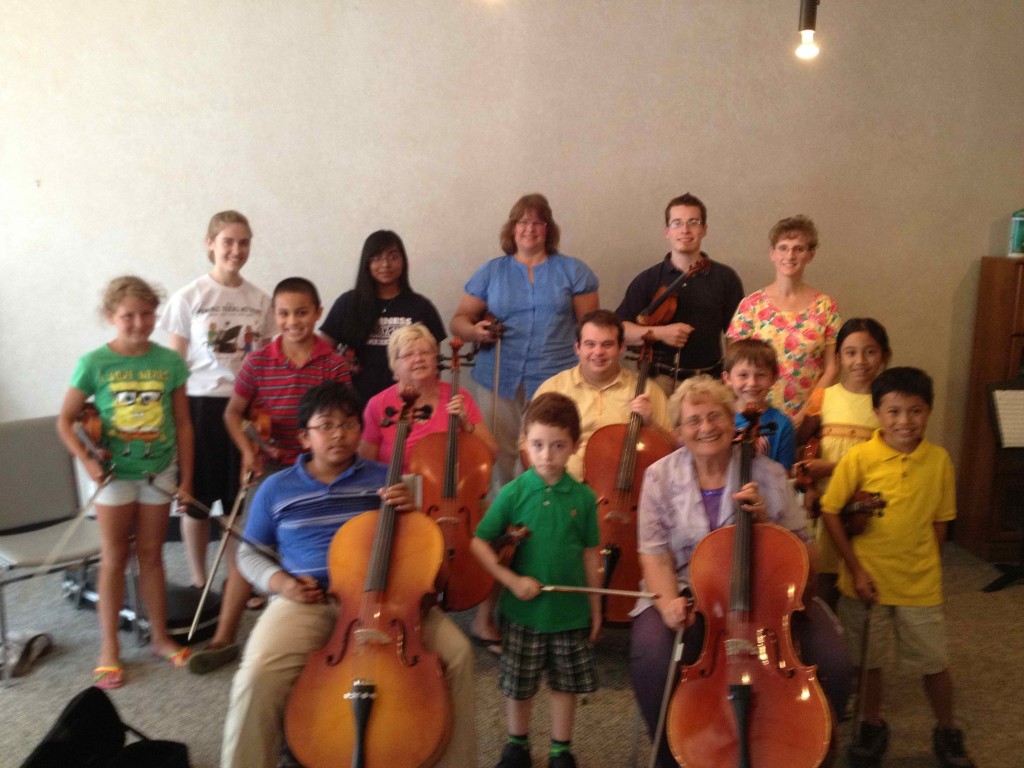 Have you ever wanted to learn to play a violin, viola, or cello? Your prayers can be answered by the Soo Theatre Project's 2018 Summer Beginning Strings Camp. This camp is for grade 3 and older including elementary, middle school, high school, and adult ages. The Soo Theatre has a thriving and growing strings studio and orchestra program. Now is a great time to try the violin!
During this two-week camp, you will learn how to play a string instrument. You can choose from violin, viola, or cello. One camp is designed for youth (3rd grade and older) and one camp is designed for adults or older students (high school students could choose either session). In one hour a day for two weeks, you will be amazed at how quickly you learn familiar pieces.
Maybe you played the violin when you were in middle school and put it away for years and have been thinking about starting again? This camp could be your way back in! It's a great refresher course for those who once played but don't know how to get started again.
Beginning Strings Camp
July 9-13 & July 16-20
3:30-4:30pm Youth (3rd grade & up)
4:30-5:30pm Adult (could include High School)
The Soo Theatre has been fortunate to receive two grants for their strings program. Thanks to grants from the Roberts P and Ella B Hudson Foundation and the Chippewa County Community Foundation Youth Advisory Council, the Soo Theatre will be purchasing a few fractional-size violins or cellos for short-term loan to students who sign up for the beginning strings classes offered through the Theatre. This will reduce the start-up cost and make it easier for those wanting to try a string instrument for the first time.
Needs-Based Scholarships to be awarded!
Thanks to a grant from the CCCF Youth Advisory Council, the Soo Theatre will be able to award a limited number of needs-based scholarships for students who otherwise might not be able to participate in summer camps. Stop in or call the office to fill out a scholarship application if you are interested or think you may qualify. Applications will be awarded on a first-come, first-served basis and can be awarded to any summer camp.
A great big THANK YOU to the Roberts P and Ella B Hudson Foundation!
A great big THANK YOU to the Chippewa County Community Foundation Youth Advisory Council!
Summer Camp registration is well under way and camps are filling up quickly! Check out our summer camp flyer and descriptions on our website.
Soo Theatre will be performing at Music in the Park Wednesday, June 13th at 7:00pm at the Soo Locks Park. Hear highlights from the spring and teasers for the summer season!
Save the date! The 350th Musical Celebration will be held at the Soo Theatre on Thursday, June 21 at 7:30pm. Song selections submitted for the Soo Song Writing Contest will be presented, along with other songs about "Home." Hosts for the evening will be Karen Hughes Beacom, Tom Ewing, Tom Lehman, and Mark SanAngelo. It will be an evening FULL of music, tales, stories, and fun, all celebrating the heritage and history of Sault Sainte Marie. Tickets are $15 for adults, $10 for students, and a special $5 ticket for STARS students. Help us fill the auditorium in celebration of a wonderful city and heritage.
Tickets are on sale now for Grease, $20 for adults and $10 for students.
Tickets for both shows can be purchased at the Soo Theatre Office, by calling the office, or on our website.
Soo Theatre Project, 534 Ashmun Street, SSM 49783 (906) 632-1930, www.sootheatre.org.
Soo Theatre… where there's something for everyone!