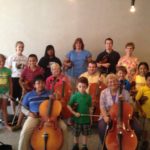 The Soo Theatre Project, Inc. relies on memberships and other contributions to help balance its annual budget.
Ticket sales, tuitions, concessions and other income cover only a portion of our total expenses. We hope you will support our mission of enriching the quality of life in the area, so we can continue to bring talented entertainers, local artists and quality events to the historic Soo Theatre stage.

Your financial support will:
Help us provide area youth and adults the thrill of being on the fully equipped stage in major productions directed by professionals.
Help us provide arts exploration and musical theatre camps each summer, master classes and satellite programs throughout the surrounding Eastern Upper Peninsula area.
Support the Soo Theatre Arts Resource Studios (STARS), the uplifting, creative environment that gives the region's children and adults multiple opportunities to develop life-long skills in instrumental and vocal music, dance and theatre crafts following expert instruction by highly-skilled teachers.
Assist us in continuing to pursue the renovation of the historic Soo Theatre
We truly value your support and hope that you will continue our partnership as we continue our quest to fully restore our historic landmark, the Soo Theatre, while offering wonderful opportunities for community involvement in the arts.
MAIL IN YOUR DONATION
Soo Theatre Project, Inc.
534 Ashmun Street Sault Ste. Marie, MI 49783
DONATE BY PHONE
906-632-1930
Restoring… Teaching… Performing…