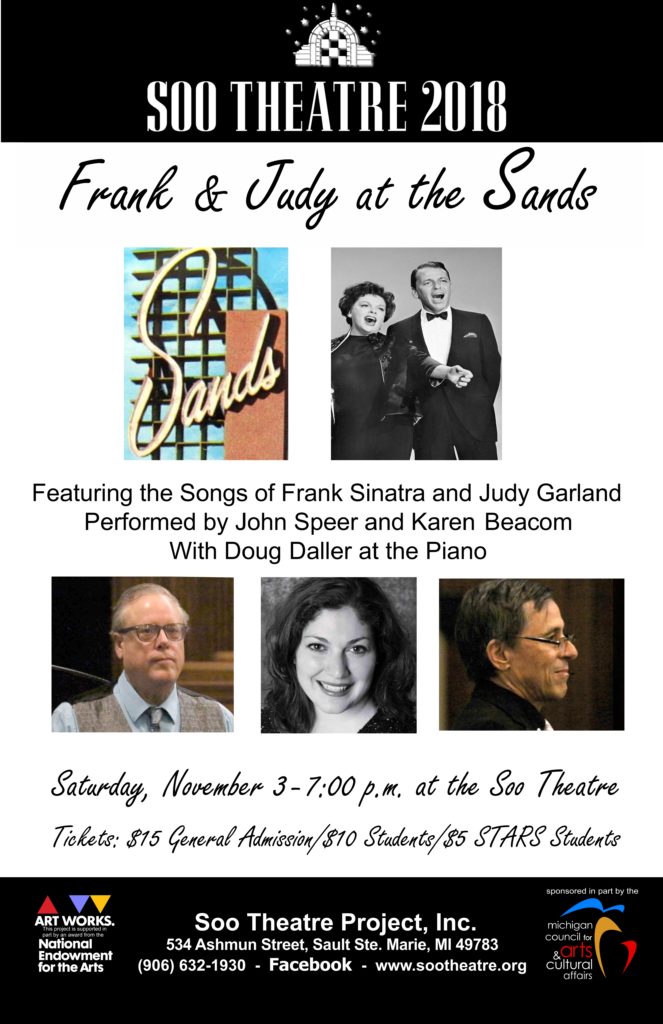 Soo Theatre presents "Frank & Judy at the Sands" tonight, Saturday, November 3 at 7pm. Karen Hughes Beacom and John Speer will sing the songs of Judy Garland and Frank Sinatra tonight. Doug Daller, of Daller and Speer, will be at the piano for this evening of great songs performed by these masters of song.
John Speer and Doug Daller first brought their concert Caba Rock to United Methodist Church as a benefit for the Soo Theatre last November. Daller and Speer showcased classic standards of Rock-n-Roll and Moody Blues.
This year's show, Frank & Judy, will add local singer and director Karen Beacom and will highlight the songs performed by Frank Sinatra and Judy Garland including "New York, New York," "Somewhere Over the Rainbow," "You Make Me Feel So Young," and "You'll Never Walk Alone." This will be a night you won't want to miss.
Tickets are available now at the Soo Theatre and via www.sootheatre.org!
CALLING ALL CHRISTMAS MUSICIANS : Singers and instrumentalists needed to be a part of Laker Christmas on Saturday, December 8 at 4pm at the LSSU Arts Center.
Each year, LSSU and Soo Theatre partner together tobring a wonderful selection of music for A Laker Christmas. If you sing or play an instrument in band or orchestra and would like to be a part of this event, please get in touch with the Soo Theatre office to find out how to be involved. The choir will be under the direction of Karen Hughes Beacom, the band under the direction of Dottie Case, and the orchestras under the direction of Dottie Case and Maggie Twining. If you were previously in the community chorus or community band, please consider joining us again. Rehearsals will start the first week of November, so get in touch soon!
Save the date for some of our upcoming events!
November 16th, 5pm & 7pm Stars Fall Recitals. Two recitals featuring STARS students taking private lessons on piano, strings, and/or voice. Students will perform musical selections from the pieces they have been working on during their fall lessons. This concert is open to the public and donations are appreciated.
December 16th, 1-4pm Tour of Homes will highlight homes throughout the Sault, Michigan area. The annual Tour of Homes Tea will run from 2-5pm at Central United Methodist Church. The tea will will be accompanied by string groups and other musical performances by students and faculty of the Soo Theatre.
Soo Theatre Project, 534 Ashmun Street, SSM 49783, (906) 632-1930, www.sootheatre.org.
Soo Theatre… where there's something for everyone!