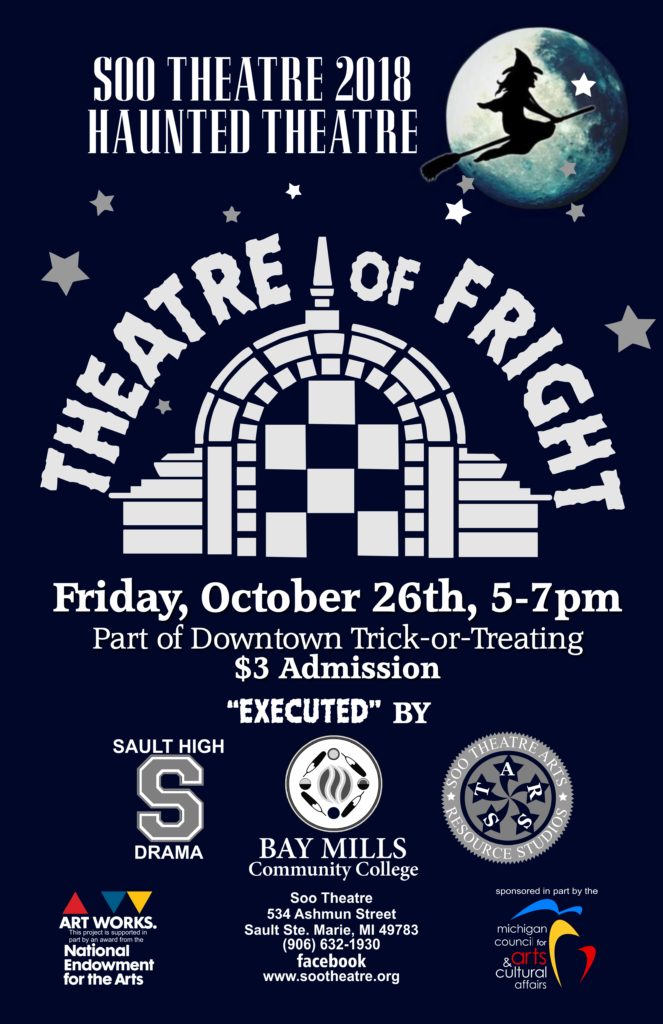 Soo Theatre's full Haunted Theatre is back! This year the haunting team has partnered with Bay Mills Community College and Sault High Drama to bring you a fun evening in conjunction with the Downtown Trick or Treating.
Due to unforeseen circumstances last year, Soo Theatre was only able to have small tours through the front of the studios, but this year they are preparing to give the Sault a fully staged fright! You will be guided through haunted halls, the haunted-torium, the stage, dressing rooms, and back through all guided by familiar characters. You can expect to see themes and characters from Soo Theatre's 2018 shows and some unexpected spooky additions!
The partnership with Sault High Drama has long been established through the efforts of Soo Theatre volunteer Kathy Flickinger and Sault High Drama teacher Tracy Menard. The students are given the theme each year and get to choose what character to play. Students either take a role in the haunting throughout the tour or they participate in the unique live mannequin window displays.
We are delighted to be sharing this effort with Sault High again and starting a new relationship with Bay Mills Community College. Coordinating efforts with Soo Theatre this year are BMCC staffers Tenniel McLeod and Kendra Mills with the help of the campus Get Involved Club. Planning with the college has been a fun effort. Now it's time to start building the haunted theater for you.
Soo Theatre will offer tamer tours for those by request. Just let the guides know that your group would like a slightly less frightful tour before you begin so the participants can be notified. Soo Theatre will hand out popcorn and BMCC will offer sweet treats.
Admission is $3.00, but donations of any size are appreciated. All proceeds go to sustain the education and community efforts at Soo Theatre. All are welcome!
For anyone who would like to volunteer on the setup or strike of these haunted hallowed halls, please contact Soo Theatre or Artistic Director Karen Beacom at sootheatre@gmail.com.
Save the date: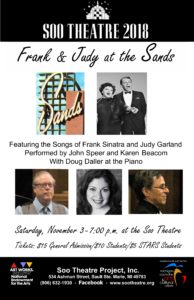 November 3, 7pm
Soo Theatre presents Frank & Judy at the Sands. Featuring the songs of Frank Sinatra and Judy Garland, performed by John Speer and Karen Hughes Beacom with Doug Daller at the piano. Admission is $15 for adults, $10 for students, and $5 for STARS students. This will be a delightful way to spend a November evening with the great songs performed by Frank Sinatra and Judy Garland including "New York, New York," "Somewhere Over the Rainbow," "You Make Me Feel So Young," and "You'll Never Walk Alone." Tickets are available now!
Fall Classes at the Soo Theatre:
We are still accepting registrations for our fall classes and lessons. Soo Theatre offers private lessons on piano, voice, violin, viola, cello, bass, clarinet, flute and harp to both children and adults, and also offers a variety of classes in music, theory, theatre, acting, and performance. Call for more information.
Soo Theatre Project, 534 Ashmun Street, SSM 49783 (906) 632-1930, www.sootheatre.org.
Soo Theatre… where there's something for everyone!