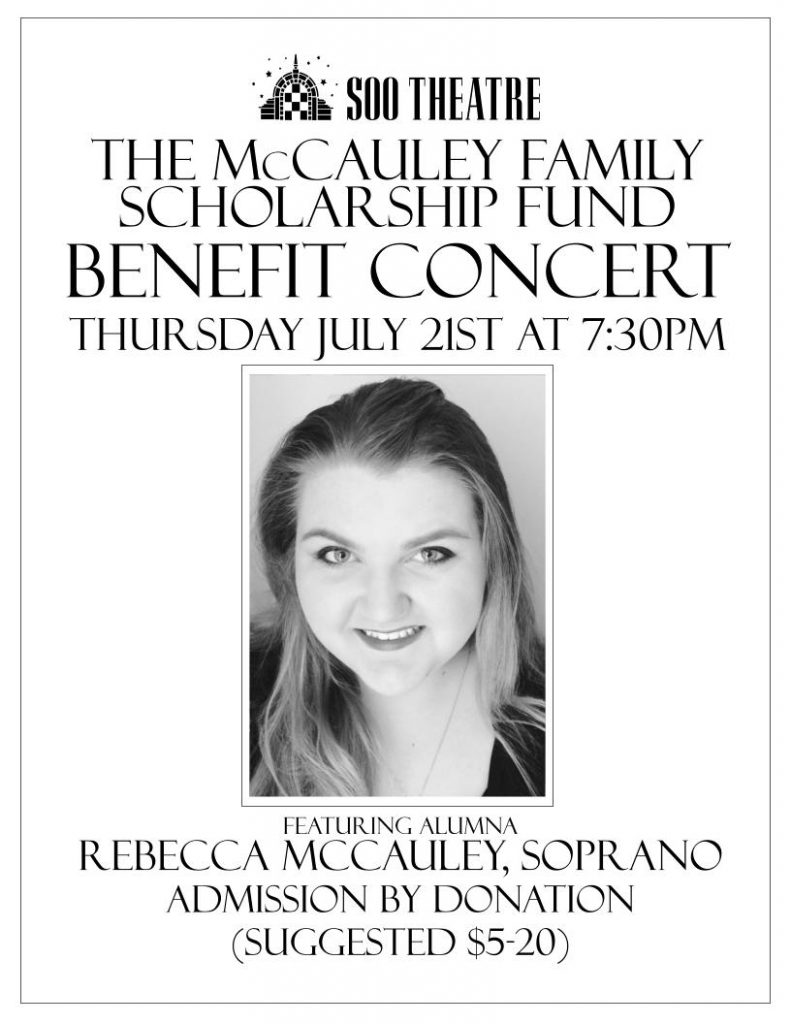 Announcing: Alumna Rebeca McCauley returns to the Soo Theatre Stage!
The McCauley Family Scholarship Fund Benefit Concert featuring Alumna Rebecca McCauley, soprano.  Thursday July 21st at 7:30 pm, admission by donation (suggested $5-20).
Rebecca McCauley, former Soo Theatre student of Dottie Case and Karen Beacom, is returning to the Soo Theatre stage to share her musical talents with the community. This Benefit Concert is the first in a series of annual concerts to establish a scholarship fund to financially assist students who might not otherwise be able to participate in enrichment activities at the Soo Theatre Project and their musical educational wing STARS. Rebecca would like to help remove any barriers that might get in the way of local children and adults making music a part of their lives.
Rebecca graduated from Central Michigan University with a Bachelor of Music degree in vocal performance. Before CMU she was actively involved in the many enrichment programs at the Soo Theatre Project and STARS. Rebecca would like to give back to Soo Theatre Project by starting the McCauley Family Scholarship Fund(MFSF), as these programs were such an important part in the musical journey that has led her to where she is today. Rebecca will be attending Belmont University in the fall for her masters degree in vocal performance and pedagogy. She plans to pursue her DMA, teach at the university level, and perform professionally.
All net proceeds and donations from the annual concert series will go directly into this scholarship fund to assist families who could not otherwise be able participate in such enrichment programs. Rebecca's performance will include pieces featured on her Junior and Senior recitals at Central Michigan University, as well as former opera roles, collaborations with other CMU musicians, and much more!
Featuring musicians BethAnne Kunert, saxophone, and Dr. Mary Jo Cox, piano.
Make Soo Theatre the place to be on your July 21st evening, and enjoy an evening of great music while helping support the next generation of musicians at Soo Theatre Project.