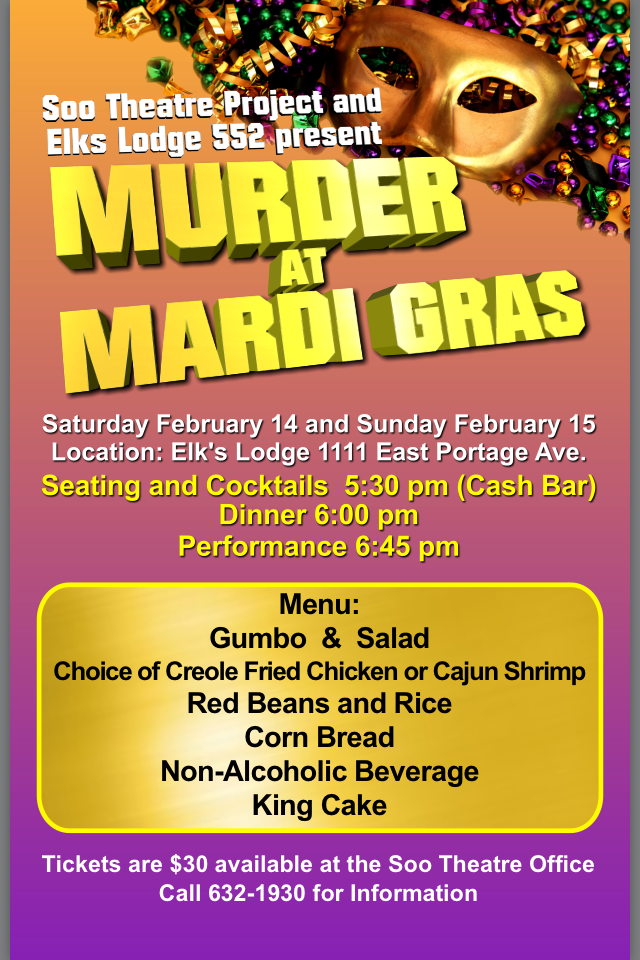 The Soo Theatre Project seems to be the place lately to quench a thirst for murder and mystery. After a successful summer season coined "A Killer Season," the requests for "Who-dunnit" themed shows have continued to come in. The MURDER MYSTERY DINNER THEATRE has been just the ticket to fit that bill with this very entertaining genre.
"Murder at Mardi Gras," produced by Kathy Flickinger and directed by Ginger Stratton, will be presented on Saturday and Sunday, February 14 and 15 at The Elks Club, 1111 E. Portage Street in Sault Ste. Marie. This will be the third dinner theatre show produced by this duo. Reservations can be made now for this event.
Guests arrive at 5:30p.m. for cocktails with dinner service to follow at 6:00p.m. The show is scheduled to begin at 6:45p.m. The February shows will be offered on both Saturday and Sunday night of the Valentine's weekend. This is a great option for couples looking for something to do on Valentine's Day. Dinner theatre is fun for date night and is additionally fun to attend with a group of friends.
It's one stop shopping…dinner and a show in the same location…you can't beat that! The dinner menu includes gumbo, salad, your choice of creole fried chicken or Cajun shrimp, red beans and rice, corn bread, a non alcoholic beverage with King cake for dessert.
With the Soo Theatre's main season currently taking place during the summer months, the idea for a show during the "off" season kept coming up. The thought was, "What would be an enjoyable way to spend a cold winter evening with good food and drink and some light hearted entertainment?" And the Murder Mystery Dinner Theatre was born.
The initial show was "Pasta, Passion and Pistols" and was held at The Antler's Restaurant in March of 2013. In the fall of 2014, they went for it again with "A Feast to Die For," also held at The Antler's this past November. And the dinner shows sold out! This genre has been a great addition to the many artistic offerings in Sault Ste. Marie and we plan to keep this going as a new Soo Theatre tradition.
If you have ever attended a show and thought, "Gee, that looks like a lot of fun!" — get involved! We are always seeking new actors. In fact the show's producers are still seeking two females and two males who can play 20's to 40's. It is a great way to have some fun and to help beat those winter blues.
So come on down to the Elks this Valentine's weekend to eat and to be entertained! We guarantee you will leave with a great meal in your belly and a smile on your face.
Tickets are available in person at The Soo Theatre Project, Inc. at 534 Ashmun Street, Sault Ste. Marie, MI 49783 or by calling 906-632-1930. www.sootheatre.org