By Lizabeth Jenkins-Dale
"Sip and Support The Heartbeat of Downtown" as you walk across the red carpet into the Ben Daniels Band concert next Saturday night, April 22, at The Soo Theatre Project as part of the kickoff concert for the 2017 Raise the Roof Concert series.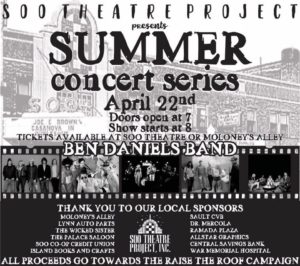 It's going to be quite an event! Beginning with a fun photo opportunity on the red carpet with you and your friends under the lighted historic STP marquee, a photographer will be there to snap a few good ones for you to remember your evening.
The Soo Theatre Project is excited because this is the exact date one year ago that the Raise the Roof Concert series began. Last year, funds were raised to repair two of the four roofs, which will be completed this summer. This year's Raise the Roof Concert series is all about raising the rest of the funds to complete the roof project.
Next weekend's concert featuring Michigan's The Ben Daniels Band will be a fabulous event in Sault Sainte Marie and its surrounding areas:
"The Ben Daniels Band has a unique sound influenced by Blues, Jazz, and Rock that lends itself perfectly to their ability to create intricate and poetic lyrics that speak to the masses. …the Ben Daniels Band can turn any venue into an intimate display of their musicianship and songwriting talents. Son of actor and musician Jeff Daniels, Ben Daniels has a talent that is passed down, but shaped his own career by hard work and creatively challenging himself."
Alongside his bandmates, the Ben Daniels Band is an up and coming act that you must take advantage of seeing on your very own historic Soo Theatre Project stage.
But, a red carpet welcoming you to the concert wasn't enough! There are two more surprises for this special event. Tickets for The Ben Daniels Band concert are $40 and are available by contacting Moloney's Alley or the Soo Theatre Project. The ticket price includes a red carpet concert entry with a photographer in front of the historic marquee, beer by Shorts Brewing Company serving a special "Raise The Roof" lager, as well as entry into a drawing for a two-person sauna valued at $4,000 donated by Jim Larsen and the Dr. Mercola company. Since only 500 tickets will be sold for this concert, everyone is guaranteed a 1 in 500 chance of winning the sauna.
It's another well-planned event by Soo Theatre Board Member and Moloney's Alley Irish Pub manager, Abby Baker, that includes a red carpet and photographer entrance, a special "Raise The Roof" lager, a sauna give-away, and a fabulous concert by The Ben Daniels Band. www.bendanielsband.com
Get your tickets now at Moloney's Alley Irish Pub or at The Soo Theatre Project. Show your support of your community to Raise the Roof while you "Sip and Support The Heartbeat of Downtown."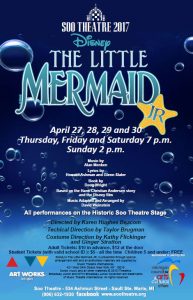 The very next weekend is "The Little Mermaid, Jr." with over seventy third grade through high school students performing. It's another excellent STP event happening Thursday to Sunday, April 27-30 sure to elevate your spirit and make your toes tap to the beat of "Kiss The Girl" and "Under The Sea" as well as "Part of Your World." Come and join Ariel as she leaves her fins and under water world for legs and an adventure she will never forget.
At the Soo Theatre Project, there is always something for everyone all year long. Call at 906-632-1930. Or, visit at 534 Ashmun Street downtown Sault Sainte Marie, MI. Or, like us on Facebook at Soo Theatre Project, Inc.