Karen Hughes Beacom / March 4, 2017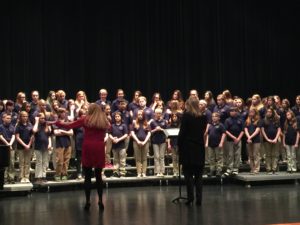 Singing abounds in the month of March in Sault Ste. Marie, Michigan with voice festivals, recitals and performances and a new opportunity for kids to sing.
The EUP Festival of Voice will hold its 5th Annual Vocal Festival on March 15 at Lake Superior State University. This local event was started by Sault Area Schools choir director Lisa Justin and local soprano Karen Hughes Beacom.
The adjudicated event is open to local choirs of all ages and soloists who wish to receive feedback on their individual vocal selections. Choirs prepare two pieces in contrasting styles and perform for the adjudicator. While not a competition in nature, the event is judged by a highly qualified professional brought in to give feedback and work with each group to improve their performances.
This annual event provides a great opportunity to work with professional singers right here in the Soo. As an adjunct professor of music at LSSU, Hughes Beacom is thrilled to have the event in the Arts Center again, giving her University ensembles a chance to perform their own stage.
Soprano Sarah Gartshore from Sault Ste. Marie, Ontario will be adjudicating. Participating choirs are from Rudyard, Cedarville, Sault Ste. Marie and LSSU. New this year will be a joint piece that will be performed by all of the participating choirs.
The event is open to the public and the performance schedule will be available on the Soo Theatre website and Facebook page the week of the event.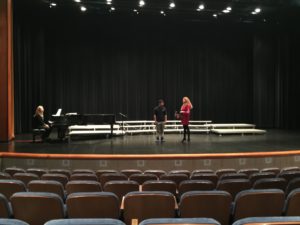 A few days ahead of the Festival of Voice, sopranos Lola Kennedy and Karen Hughes Beacom will perform on the Music at Central Concert Series on Sunday, March 12 at 3pm.
The duo will perform Broadway hits from "My Fair Lady," "Carousel," and "Hamilton," to opera arias from Handel's Rinaldo, "Lascia ch'io pianga" to the more modern work "Ain't it a Pretty Night" by Floyd.
Also on the program are duets, including "Down to the River to Pray" and "Amazing Grace." The performance will be accompanied by pianist Kristin Beckman.
One week later, Beacom will sing as a member of the Soo Theatre faculty. This spring recital will be held on Sunday, March 19 at St. Mary's Pro-Cathedral at 4 o'clock.
To begin this month of singing, the Soo Theatre is offering another session of Youth Chorus to singers from age 8-18. The chorus, last seen at A Laker Christmas, will prepare selections for Music in the Park in June. Rehearsals will take place on Mondays from 4-4:45 starting on March 6 under the direction of Karen Hughes Beacom.
You can catch all of this great singing right here in Sault Ste. Marie this March.