Wow! So many opportunities for everyone at The Soo Theatre Project all year long! Auditions for The Wizard of OZ are coming early May. But, first…
Last weekend was the fabulous Ben Daniels Band as part of the Raise The Roof Concert series. What a great time it was! Like our Facebook page to see pictures and videos from this concert. There are many more concerts to come in the near future.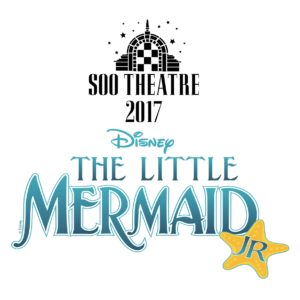 This weekend is your opportunity to see The Little Mermaid, Jr. on STP's historic stage. Over 70 students aged 8-18 will perform for you this timeless tale of love and adventure. Be amazed as these young, but powerful voices sing, dance, and act for your viewing pleasure.
Join the gathering audience to enjoy seeing Ariel experience life on land with…what are they called? Oh feet! She exchanges her fins for walking legs to explore the world above her, but not without great challenges. Ariel's father is quite upset about her defiance of his absolute "No!" and Ursula, the character with a devious plan, is determined to make sure Ariel fails. Will Ariel find her true love? Come to the show to find out!
Show times for The Little Mermaid, Jr. are: Thursday, April 27 at 7pm, Friday, April 28 at 7pm, Saturday, April 29 at 7 pm and Sunday, April 30 at 2 pm.
Auditions for The Wizard of Oz will be held on May 1, 2, & 3, 2017. This is the Soo Theatre Project's premiere summer musical, and it is open to all members of the community. All roles are available! The audition schedule is: May 1 – PRINCIPALS 7-9pm, May 2 – KIDS 12 and UNDER 7-9pm, May 3 – CALLBACKS 7-9pm.
To audition you have two choices: 1. Reserve your auditions time in advance for Monday and Tuesday nights. 2. Come the evening of May 1, 2 and be heard on a first come, first served basis. KIDS 12 and UNDER will be heard in two groups: 7-8pm and 8-9pm.
Adults 13 years old and older should prepare one verse of a song from the show with piano accompaniment. A pianist will be provided.
During the audition, KIDS 12 and UNDER will learn a short excerpt from the show and sing together in small groups. Those who wish to be considered for a solo spot should be prepared to sing alone.
Audition forms can be filled out directly online.
If you are unable to attend the scheduled audition dates, but are interested in trying out for the show, please contact director Karen Hughes Beacom at karenbeacom@gmail.com.
The Wizard of Oz is another timeless story originally written by L. Frank Baum as The Wonderful Wizard of Oz published in 1900. His story became a musical on Broadway in 1902 and then developed into a movie in 1939. This beloved story will come to life on July 13-16 downtown. Will you be a part of the magic?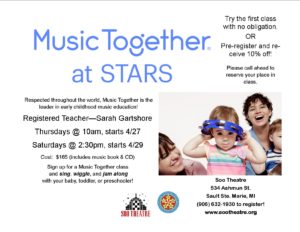 Another session of Music Together begins this week! Call the office for details and join in the early music fun with instructor Sarah Gartshore.
Barbershop in June! On the near horizon…Sunday, June 4 at 3 pm is the annual barbershop show featuring not only one performance, but two! The Northland Barbershop Chorus will perform "The Last Voyageur" and The Sweet Adeline's will perform "Our Favorite Things" for you. Every year these performances wow the audience! So be sure to save the date!
At the Soo Theatre Project, there is always something for everyone all year long. Call at 906-632-1930. Or, visit at 534 Ashmun Street downtown Sault Sainte Marie, MI. Or, like us on Facebook at Soo Theatre Project, Inc.