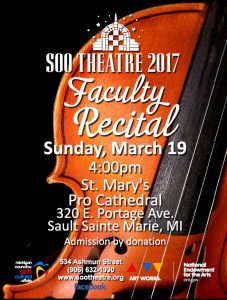 Instructors at the Soo Theatre have been gearing up for their faculty performance tomorrow afternoon. The concert will take place at 4 o'clock in the afternoon on Sunday, March 18 at St. Mary's Pro-Cathedral on Portage Street in downtown Sault Ste. Marie, Michigan.
The program will feature a variety of instruments including violin, voice, organ, flute, clarinet, and a string quartet.
One highlight of the program will be a movement from a Mendelssohn String Quartet performed by Benjamin Gulder and Anya Mallinger on violin, Dottie Case on viola, and Maggie Twining on cello.
Mallinger, concertmaster of the Sault Symphony Orchestra and instructor at The Algoma Conservatory joins the Soo Theatre faculty members as a guest artist.
She has also been the concertmaster for many Soo Opera performances at the Soo Theatre and recently collaborated in the annual Festival Orchestra concert with Case and Twining. The three teachers worked together to combine their student orchestras for an entertaining and educational experience for all.
"Ain't It A Pretty Night" by Carlisle Floyd will be performed by lyric soprano Karen Hughes Beacom, with Kristin Beckman accompanying.
Beacom will also perform some gospel selections with well known Soo Theatre performer Lola Kennedy from their recent recital at Central. Kennedy has been working with Beacom on "The Little Mermaid Jr." coaching young singers in their acting roles in the show.
The organ at St. Mary's will also play a role in Sunday's performance. Organist and pianist Betty Struble will showcase this beautiful instrument with some Bach, Handel and a delightful Spanish number.
Woodwinds will also be on the scene with a duet performed by Meg Boucher on flute and Dottie Case on clarinet.
Maggie Twining and Benjamin Gulder will also make solo appearances on the concert.
Please join us for a relaxing afternoon of music. Admission is by donation. Proceeds will go towards our newly formed student scholarship fund. Consider a gift to the Soo Theatre today.