Meg, like many wind players, started playing flute in middle school. She took her band director very seriously when he told her to practice 30-45 minutes a day. It turns out that practice is easy when you are doing something you love! In high school she studied flute with University of Wisconsin-Oshkosh professor, James Grine. Meg went on to receive a B.A. in Music Performance from Ripon College and her instrumental music teaching licence from UW-Milwaukee. She enjoys every aspect of teaching music–from working with very beginners to helping advanced students prepare for contests and auditions.
Dottie Case
Dottie Case, STARS Director of Music, has a busy studio of private students, teaching violin, viola, piano and clarinet. She is the founder and Director of the highly-respected STARS Youth Orchestra, and also directs the adult string orchestra, the New Horizons Strings. She is a violinist/violist for the Sault Symphony Orchestra, and a member of the Marquette Symphony Orchestra.
Dottie has a Bachelor of Fine Arts with concentrations in Music and Theater from LSSU, a Master's in Humanities with Music Concentration from California State University and is an Adjunct Professor of Humanities at LSSU. She is a founding member of 'Simply Strings,' a classical string quartet which performs at weddings and various events on Mackinac Island during the summer season.
Sarah Gartshore
Sarah Gartshore has had an outstanding career in Chicago and relocated to Sault Ste. Marie, Ontario in 2014 where she teaches at the Algoma Conservatory and Algoma University. The Chicago Tribune describes her voice as "particularly impressive and possessing a rich, shining soprano". Performances have included the Ravina Festival, Santa Fe Opera, American Opera Group, and Chamber Opera Chicago to name a few. Her portrayal of the desperate Magda, described by Opera Canada as "startlingly dramatic, was a highlight of Chamber Opera Chicago's production of Menotti's The Consul".
In addition she is in demand on the concert stage with an expansive repertoire including performances of Dvorak's "Mass" with the International Choral Arts Festival of Jihlava in the Czech Republic, "Messiah" with the Richmond and Jacksonville Symphony Orchestras as well as Chicago's Apollo Chorus, Haydn's "Heiligmesse," Pergolesi's "Stabat Mater" and the "Te Deum's" of Delalande and Charpentier with Music of the Baroque, Brahms' "Requiem" and Mahler's "Fourth Symphony" with the Richmond Symphony, and Mahler's "Second Symphony" and Verdi's "Requiem" with the Muncie Symphony (IN). As a nine year veteran of The Handel Week Festival of Oak Park (IL) she has performed several solo cantatas, Judas Maccabaeus, Esther, Fulvia in Ezio, and Galatea in Acis and Galatea.
On our side of the river, Gartshore was seen as Donna Elvira in Soo Opera's 2015 production of "Don Giovanni" and has adjudicated the Eastern Upper Peninsula Festival of Voice.
Karen Hughes Beacom
With a voice and stage presence described as "warm and lyrical with a lot of dramatic power," Karen Hughes Beacom is making a name for herself on the opera and concert stage. Her career is crossing borders, with her recent international performance at the Forbidden City Concert Hall in Beijing, China as the soprano soloist in Bach's Mass in B Minor with the Tianjin Symphony. Karen also appeared as the Countess in Le Nozze di Figaro under the baton of Joseph Rescigno in Novafeltria, Bellaria and Sant'Archangelo, Italy. Karen performs regularly with the Sault Symphony in Ontario, Canada, with solo appearances in Handel's Messiah and in Orff's Carmina Burana.
This versatile soprano has performed leading roles in Die Fledermaus, The Magic Flute, Cosi fan tutte, O Pioneers!, Madama Butterfly, and Le Tragedie de Carmen, among others. Her opera credits include Des Moines Metro Opera, Utah Festival Opera, Opera Omaha, Sun Valley Opera, DuPage Opera Theatre, Soo Opera Theatre and the Chautauqua Institution. ¨In addition to performing, Karen heads into her eighth season as the founder and artistic director of the Soo Opera Theatre in Sault Ste. Marie, Michigan. Past productions include La Boheme, Hansel and Gretel, That's Amore, The Magic Flute, A Grand Night for Singing, Die Fledermaus and Cosi fan tutte, Gianni Schicchi, and The Marriage of Figaro. In addition to her private vocal studio, Karen is an adjunct professor of music at Lake Superior State University. Karen holds a Master's Degree in Vocal Performance from the University of Nebraska-Lincoln where she studied under Metropolitan Opera Mezzo-Soprano, Ariel Bybee. A student of Bybee's in New York City, Karen followed her mentor and teacher to earn her degree in the field of opera. Karen previously earned a Bachelor's Degree in Harp Performance from DePauw University.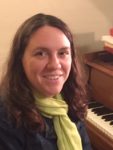 Elizabeth James is a 2002 graduate of Hillsdale College with a BA in music education. Percussion was her primary instrument and piano was her secondary instrument. She has been playing the piano since she was 9 and started teaching lessons in High School. She has a MME from VanderCook College of music in 2010. She was the band and music teacher in Brimley for 12 years and currently teaches Elementary General music in Cedarville. Her favorite percussion instruments to play and teach are marimba, vibraphone, timpani, snare drum, and triangle among others. Elizabeth teaches for the Soo Theatre out of her home in Pickford.
Betty Struble
Betty Struble's music career began with piano lessons at age six. Six years later she played the organ for her brother's wedding!
While still living in the lower Peninsula, she had a full career as an elementary school teacher, having a Master's degree in education from Michigan State University, she was a member of an instrumental trio, played and sang with a gospel group, played for churches, choirs, community theatre groups, and accompanied students for Solo and Ensemble events.
Since moving to the Upper Peninsula, Betty taught elementary vocal music in Cedarville for six years. She continues to be a church musician, work with school and community theatre groups, and give piano and organ lessons.
Maggie Twining
Maggie Twining has lived most of her life in the Upper Peninsula of Michigan. She began playing cello at age ten, double bass and violin at age twelve. She attended Michigan Technological University for two years before transferring to Northern Michigan University to obtain a Bachelor of Arts in Music Education. While in high school and college, she studied with Laura Deming of the Chicago Lyric Opera House and Tracy Geissler. After graduating and teaching a year of general music and beginning orchestra in the public school, her family relocated to the Copper Country where she taught cello and violin was the director of the Preparatory Strings (Beginning Orchestra) and the Keweenaw Youth Symphony Orchestra for ten years.
In high school and college, she participated in many musical venues including chamber ensembles, Keweenaw Symphony Orchestra, Marquette Symphony Orchestra, University Theatre musicals and even took up the trombone to play in the Marching Band at NMU.
Maggie is currently the Education Director at the Soo Theatre and teaches violin, viola, cello, and bass privately and in groups. She also directs the STARS Youth Orchestra early and intermediate levels, Soo Cello Crew, Cantus Celli, and New Horizons Adult String Orchestra. She enjoys working with students of all ages and especially loves that her profession allows her to see her students grow and develop year after year.