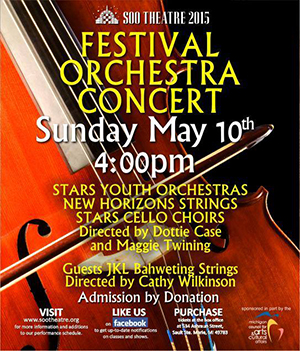 The STARS YOUTH ORCHESTRA will be celebrating their 10 year anniversary by hosting the annual Festival Orchestra Concert on the historic Soo Theatre stage. This annual performance is a celebration of string playing and the growth of strings in our area. This year's concert, on May 10 at 4:00 pm, will feature several dozen violinists, violists, cellists and bassists, ranging from 5 to 80 years in age, who will join together to play everything from Mozart to traditional Fiddle tunes.
The STARS Youth Orchestra, formed in 2004 under director Dottie Case, played their first concert in January of 2005, and has since continued to attract highly accomplished young string players. The ensuing years have seen the establishment and growth of a vital strings program at the Soo Theatre, resulting in the formation of several other groups, all of whom will be a part of the large group pieces.
New faculty member Maggie Twining will be unveiling her cello choirs and a new beginner level youth orchestra. We are in the middle of a cello boom at the theatre and audiences are sure to enjoy the performances by the Soo Cello Crew (the youth cello group) and the Adult Cello Choir, playing pieces ranging from Beatles selections to the Darth Vader Theme from Star Wars.
Our newest group, formed just this semester, is our beginner-level youth orchestra of 7-12 year olds who are new to orchestral playing. This will be their very first concert experience and will be a valuable step as they learn to play with others.
In addition, we will be joined by guests from the JKL Bahweting School strings program. Music and strings teacher Cathy Wilkinson will be bringing twenty students from the school orchestra to join the other assorted groups in several combined pieces that will bring together several dozen musicians on stage.
The Soo Theatre has an active New Horizons Strings program, with two groups of adult musicians meeting weekly under the direction of Dottie Case. This group has also grown quickly, and currently we have close to 20 adults who meet regularly to play together. While adult students take up string playing for many reasons, most find an unexpected social element of playing together with others in a fun, supportive and non-judgemental environment. For many, the sheer fun of playing together has been an unexpected and welcome benefit to learning to play an instrument in mid-life.
Totaled together, this gathering of string players is so large that we will have trouble fitting them all on the stage. Just the cello section alone will total 17 players, (plus 4 basses), with many many violinists and violists to fill out the parts. This is huge progress indeed, in a mere ten years time, and it will be very exciting to fill the stage with the fruits of our labors. While it's true that we are a rather small and comparatively isolated population when it comes to the Fine Arts, it's worth noting and celebrating a vital educational program that has grown up and been nurtured in our community. Please join us for this celebration of music on May 10 at 4:00 pm on the Soo Theatre Stage.