by Lizabeth Jenkins-Dale / Feb. 18, 2017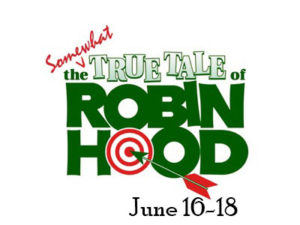 Robin Hood Auditions! Auditions for The Somewhat True Tale of Robin Hood, to be performed June 16, 17, and 18, are Sunday and next Wednesday.
Tomorrow's auditions are from 1-4 pm for those adults wanting a major part. (See list of characters below.) Wednesday's audition time is 6-8 pm for high schoolers to adults. Director Lisa Dunn explains the auditioning process: Those auditioning will be asked to read a short scene from the play. Audition scenes will be available for perusal before auditions.
Everything about The Somewhat True Tale of Robin Hood is humorous! Even the title hints at humor. The list of available characters reveals even more wittiness:
Robin Hood: Dashing hero with a large ego
Lady Marian: Lovely damsel in distress
Prince John: The head bad guy
Sheriff of Nottingham: Prince John's cohort in crime
Towns guy: The local yokel
Lady in waiting: Lady Marian's attendant
Friar Tuck:
Holy relic
Will Scarlet: The wise guy
Little John: Big character with an IQ of six
Allan Adale: Slightly brighter than Little John
Fawning Ladies: Ladies who " fawn" over Prince John
Guards: Those who protect the castle
Rich man
Poor lady with a baby
For more information and for a summary of The Somewhat True Tale of Robin Hood, please go to www.sootheatre.org and look under the auditions tab.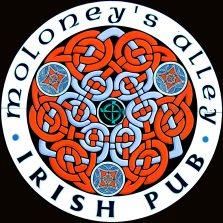 Hungry? How does thick sausage gravy over hot biscuits, freshly made scrambled eggs, crispy bacon, sizzling sausage, and sizable hot cakes sound to you? That was the excellent breakfast served at Moloney's Alley Irish Restaurant Saturday, February 4 before the I-500 snowmobile race. Over 100 happy breakfast eaters were served a plateful of morning goodness for only $8. Proceeds went to The Soo Theatre Project. Many thanks to Abby Baker, manager of Moloney's Alley Irish Restaurant, for organizing this event.
"People were really hungry and quite thankful for the delicious, quick meal before heading to the racetrack," said breakfast server Lizabeth Jenkins-Dale.

"The staff was friendly and Abby was so helpful answering our questions of 'how things work' the day of the race. We returned Saturday morning for the Bloody Mary bar and mimosas. Amazing spread of fixings for sure! Also, there was a breakfast being served to benefit the Soo Theatre. It was great to see the community supporting their local downtown. We attended the race and returned to Moloney's at the end. It was a great crowd, great music and the staff was still amazing after, what I am sure, was a long and busy day! Can't wait to return and experience more of what the Soo has to offer!"
-Emily Rose, a satisfied customer.
The breakfast before the I-500 race will be an annual event at Moloney's Alley Irish Restaurant so put it on your calendar for next year!
At the Soo Theatre Project, there is always something for everyone all year long. Call at 906-632-1930. Or, visit at 534 Ashmun Street downtown Sault Sainte Marie, MI. Or, like us on Facebook at Soo Theatre Project, Inc.