By Lizabeth Jenkins-Dale
With much excitement…tonight is the "Raise The Roof" concert by The Ben Daniels' Band! Tickets include a red carpet entry under the historic marquee complete with a photographer to capture you and your friends' entrance. There is a two-person sauna valued at $4,000 donated by Jim Larsen and the Dr. Mercola company which ticket holders will be automatically be entered into the concert's drawing for the sauna. Also, a special "Raise The Roof" lager will be served in addition to other refreshments.
The Ben Daniels Band is a folksy, rock, pop, and country mix band. Ben Daniels, actor Jeff Daniels' son, and his band are both Michigan born and have played at a variety of Michigan towns and venues. For more information about the band visit www.bendanielsband.com. Tickets are available at the door as well as at Moloney's Alley Irish Pub before the concert.
So "Sip and Support The Heartbeat of Downtown" as you enjoy this great-sounding and engaging band. Doors open at 7 pm. The concert begins at 8 pm.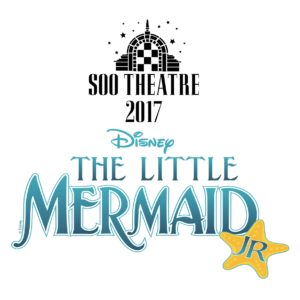 Beginning next Thursday evening, April 27 through Sunday, April 30, The Little Mermaid, Jr. will be performed! The interest and response to this production has been outstanding. More than 70 performers, third through twelfth graders, are enthusiastically participating. Come see a performance (or two) next week and be part of this fabulous opportunity. Goosebumps, good vibes, and toe tapping are guaranteed!
The Little Mermaid, Jr. performers herald from multiple parts of the Eastern Upper Peninsula including Sault Sainte Marie, Pickford, Brimley, Strongs, Dafter and Rudyard. The Soo Theatre Project proudly announces the cast of The Little Mermaid, Jr:
Ariel is the character who wishes to be part of the world above her – the human world, where they walk with feet! ARIEL – Alyssa Morley (TH/SAT), Anna Kowalski (FRI/SUN). PRINCE ERIC – David Weber. Sebastian is that cute little highly stressed crab who makes great efforts to watch over Ariel while she is in the human world. SEBASTIAN – Faith Nayback.
FLOUNDER-Kai Jenkins (TH/SAT), Fairyn Novak (FRI/SUN). Ariel's father, King Triton, clearly tells her "NO!" when she wants to be part of the human world. KING TRITON – Miranda Schomberg. AQUATA – Emma Mansfield, ANDRINA – Emily Kars, ARISTA – Lauren Arthur, ATINA – Danielle Forsythe, ADELLA – Olivia Schopp, ALLANA – Sophia Kowalski.
Every good story needs an antagonist, and Ursula is the conniving one in this story. URSULA – Miriam Sanders. TENTACLES – Anna Cole, Savannah Quinlan, Tessa Woolever, Sophia Driedric. FLOTSAM – Sydney Kuenzer. JETSAM – Breanna Vert.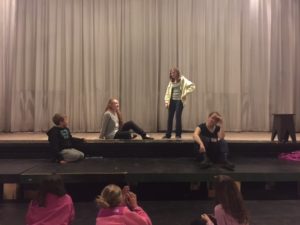 The Little Mermaid, Jr. is all about the sea and seashore so of course there are seagulls and other sea creatures! SCUTTLE – Randi Bumstead. GULL 1 – Allison Waybrant, GULL 2 – Rachel Waybrant, GULL 3 – Olivia Martin. GRIMSBY – Daniel Jenkins, CARLOTTA – Erin Pendygraft. SEA CREATURES – Carissa Brown, Anna Collins, Quinn Woolever, Isadora Johnson, Kelsie Allen, Jada Wilson, Jasmine Gardner, Aubrey Agar, Kai Jenkins, Ella Cole, Savannah Quinlan, Myah McDonald. SEAHORSE – Evelyn Weber.
Ariel has to learn to eat human food so characters to prepare the food are needed: CHEF LOUIS – Ross Malaska, CHEFS – Maggie Gazvoda, Tiffeney Stratton, Kenzie Waldrop-Gordon, Viola Cole, Mia Woolever. PRINCESSES – Lili McKee, Theresa McCready, Iris Butler, Elanor Ray, Ellah Deeghan. PILOT – Riley Wilson. SAILORS – Laila Duvall, Miranda Allen, Max Gazvoda, Lane Cozort, Sabrina Powley.
It's a musical so there's dancing! SEA CHORUS DANCERS -Tyler White McDowell, Theresa McCready, Lillian McKee, Myra Gustafson. MERFOLK – Grace Swanson, Abby Kabelman, Isabella Stratton, Ciara Jewell, Leah Dubois, Tessa Miller, Abbey Bjunes, Ella McKerchie, Iyla Beaulieu.
Plan to experience The Little Mermaid, Jr. and all the wonderful songs such as "Kiss The Girl" and "Under The Sea" as well as "Part of Your World." You'll love it!
Show times for The Little Mermaid, Jr. are: Thursday, April 27 at 7 pm (preview), Friday, April 28 at 7 pm, Saturday, April 29 at 7 pm, and Sunday, April 30 at 2 pm.
On the near horizon…Sunday, June 4 at 3 pm is the annual barbershop show featuring not only one performance, but two! The Northland Barbershop Chorus will perform "The Last Voyageur" and The Sweet Adeline's will perform "Our Favorite Things" for you. Every year these performances wow the audience!
At the Soo Theatre Project, there is always something for everyone all year long. Call at 906-632-1930. Or, visit at 534 Ashmun Street downtown Sault Sainte Marie, MI. Or, like us on Facebook at Soo Theatre Project, Inc.