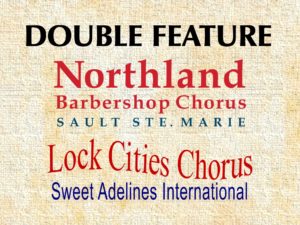 By Lizabeth Jenkins-Dale
Two local Canadian/American barbershop groups will be performing at one event one night only on the historic stage of The Soo Theatre in downtown Sault Sainte Marie, MI on May 31 at 7:30 P.M.
This annual (and popular!) show provides the audience with a double feature: a women's group called "The Lock Cities Chorus of Sweet Adelines, Inc." and a men's group called "Northland Barbershop Chorus."
The Lock Cities Chorus' performance is titled, "Sunny, With a Chance of….?" while the Northland Barbershop Chorus'performance is titled, "North to Alaska." Both themed barbershop shows will provide talented vocalists, theater, and wonderful entertainment.
Pat Deatrick, co-director of the women's group, states: "Lock Cities Chorus, organized in 1986, under the direction of Judy Hendrickson, is affiliated with Sweet Adelines, Intl., an international organization of women dedicated to 4 part a cappella singing, barbershop style. Lock Cities Chorus belongs to Border Lakes Region 2, which encompasses most of Michigan and some of Ontario. Although several choruses have members from 'both sides', Lock Cities Chorus is the only chorus that comes close to having a 50/50 membership. Even the co-directors' representation is from each side: Linda Sirie from Sault, Ont. and Pat Deatrick from Sault, MI."
Regarding its part of the May 31st show, Pat continues, ""Sunny with a Chance of …..?" features various weather-related tunes woven into the story of a meteorologist trying to come to terms with her own love-life and its own ups and downs."
Northland Barbershop Chorus director Bob Shami masterfully incorporates history with song. This year's show focuses on the Klondike (or Yukon) Gold Rush. Bob Shami writes, "The Yukon Gold Rush ended in 1899 after gold was discovered in Nome, prompting an exodus from the Klondike to Alaska, in pursuit of the prospector's dream." Thus, the title of their show May 31st: "North To Alaska."
Bob continues, "One of the Yukon's more famous residents was English poet Robert W. Service, known as "The Bard of the Yukon" for his famous poems such as "The Cremation of Sam McGee," depicting the Gold Rush atmosphere. Service was transferred to Dawson City ten years after the peak of the Gold Rush. Ironically, Service found his own "gold" in the stories he heard there. His first book of poetry, "Songs of a Sourdough," made him a wealthy man selling more than 1.5 million copies."
Regarding specifics of the May 31st show, Bob states, "The 40+ man chorus will present songs in traditional four-part barbershop harmony within the context of an original play I wrote. The setting is the office of aspiring writer Sam McCord (VERNON BAILEY). Sam's grandfather, "Big Sam" McCord, was a Sourdough – that is, a veteran prospector during the Yukon Gold Rush.
"Sam is writing a book about his grandfather's adventures, but knows few details of Big Sam's life. He wishes he could hear from someone who was there and gets his wish with the appearance of Big Sam's partner George Pratt (HARRY HOUSTON). Through George's stories and Sam's recitation of famous works by Service, we get an unique perspective into a legendary period in Canadian history."
Come and hear these talented groups present songs woven into stories!
For more information, please see the flyer, Soo Theatre Project on Facebook, www.sootheatre.org, or call 906-632-1930
906-632-1930.