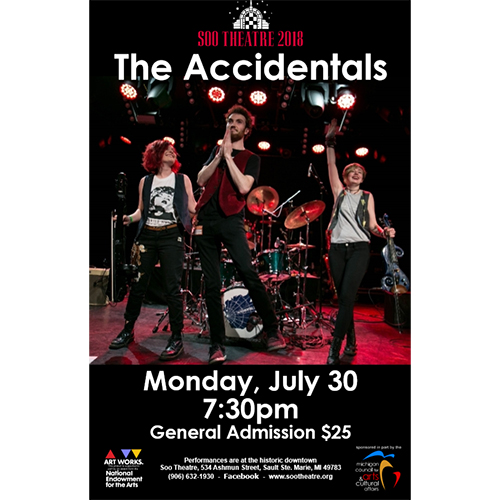 The Accidentals return to the Soo Theatre on Monday, July 30 at 7:30pm. Tickets are $25 general admission and beer and wine will be available from Soo Brewery and 1668 Winery. The Accidentals have been named among Yahoo Music's "Top Ten Bands to Watch in 2017." When they are not touring, they call Michigan home, having roots in the Traverse City area. Savannah Buist and Katie Larson were classmates in orchestra in high school and were later joined by Michael Dause from a suburb of Northville, Detroit after meeting at a music festival.
Collectively, they bring quite an array of talent to the stage. Buist plays guitar, violin, viola, banjo, mandolin, and upright and electric bass. Larson plays cello and electric guitar and graduated from Interlochen Arts Academy where she studied songwriting and music technology along with cello. Dause plays the drums, taught himself guitar, and began writing his own songs in ninth grade.
What could be better on a Monday night in the Soo? Great music at a historic building with beer, wine, and friends! See you there!

The Secret Garden
This classic tale of a sickly and unloved girl, Mary Lennox, born in India to wealthy British parents is one you'll not soon forget. Mary is cared for by servants and is a spoiled and selfish child. After losing her parents and the servants to disease, Mary is sent to live with a wealthy uncle. The maid at the new manor tells Mary the story of her late aunt, who would spend hours caring for rose bushes in the garden. After an accident in the garden, her uncle locks the garden and throws away the key.
The Secret Garden will use many local talents as well as talented artists who are not strangers to the Soo Theatre. The cast list includes:
Karen Hughes Beacom as Lily
Gabbie Pepin as Mary
Cindy Smith as Mrs. Medlock
Timothy Schmidt (University of Missouri) as Dr. Neville Craven
Julia Hollingsworth as Martha
Dr. Christopher Hollingsworth (Hardin-Simmons University) as Archibald Craven
Cody Free as Dickon
Faith Nayback as Colin Craven
Mary Anne Nakamura as Mrs. Winthrop
Melanie Case as Rose Lennox
Trevor Headley as Alberty Lennox
Anna Kowalski as Alice
Matt Zook as Major Holmes
Jim Taylor as Ben Weatherstaff
Theresa McCready as Claire Holmes
Matt Gilbertson as Fakir
Lola Kennedy as Ayah
Iyla Beaulieu and Miranda Allen as two kids
Come along with Mary as she endeavors to find the Secret Garden and unlock the mysteries of Misselthwaite Manor!
Tickets for The Secret Garden are $22 for adults and $10 for students. Performances are Wednesday, Friday, and Sunday August 8 and 10 at 7:30pm and August 12 at 3:00pm.
Tickets for both The Accidentals and The Secret Garden are available for purchase on our website: www.sootheatre.org, by calling the office at (906) 632-1930 or by stopping in the office Monday through Friday, 10am-5pm.
Soo Theatre Project, 534 Ashmun Street, SSM 49783 (906) 632-1930, www.sootheatre.org.
Soo Theatre… where there's something for everyone!