The Accidentals with its talented trio of musicians from Traverse City are returning to the STP stage this summer on Thursday, August 24 at 8 pm! The Accidentals are an American musical band formed in Traverse City, MI in 2012 by Savannah Buist and Katie Larson. The group features an eclectic blend of indie folk, pop, jazz, bluegrass, rock, classical and other genres, utilizing a wide variety of instruments that reflect the group's orchestral
"Born in Nashville TN, her birth announcement came by way of Whispering Bill Anderson on the Grand Ole Opry stage where her father played piano. Sav's love of music began on a tour bus when she was three months old. Surrounded by musicians and mesmerized by anything with strings, it really wasn't a question of "would she play" but "what" would she play. Now the question is "what doesn't she play?" Sav writes most of her songs on her Takamine guitar or Liquid Violin and colors them with a bit of viola, banjo, mandolin and upright bass/Fender electric bass."
Check out their amazing talents for yourself on
Thursday, August 24!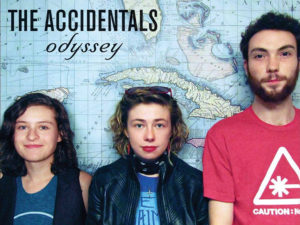 The Accidentals are currently on tour promoting the release of their new album, "Odyssey," which will be available on August 18. Much more information is available at:www.theaccidentalsmusic.com.
Tickets for The Accidentals are on sale now at the Soo Theatre Office located in the heart of downtown Sault Ste. Marie. This concert is part of the "Raise the Roof Concert Series." Beer and Wine will be available from 1668 Winery and Soo Brewing Company. Come on down to "sip and support the hearbeat of downtown."
The Accidentals will perform Thursday, August 24 at the Soo Theatre. Doors open at 7 pm and the concert begins at 8 pm. Tickets are $20 and there are several ways to get them. Tickets will be available at the door, or you can stop in the Soo Theatre Office to pick them up ahead of time. You can also call and order them over the phone, or log on to our website at www.sootheatre.org and click on the "Tickets" tab to order your ticket online!
New Fall Classes to Begin
New lessons and classes are scheduled to begin the week of September 11, 2017. There are many classes to choose from for both children and adults. The Soo Theatre encourages you to pre-register for classes and lessons. Lessons are based on a 32-week calendar year that coincides closely with the local schools calendar. Soo Theatre is not in session during Thanksgiving, Christmas, Easter, Spring break, etc. The tuition is based on the 32 weeks, but your bill is divided into installments, to make payments more affordable. Classes are typically 8-10 weeks or a semester, with new semesters in September and January.
Lessons are offered in piano, voice, violin, viola, cello, string bass, flute, clarinet, ukulele, and guitar. If you don't see your instrument, but are interested in lessons, call the office and we will see if we can help you find a teacher in the area.
Adult Classes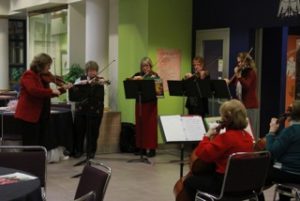 Have you ever wanted to try the violin, viola, or cello or string bass? Every fall, STP offers a beginning level class to learn to play stringed instruments.
Maybe you already play an instrument and want to join an ensemble. STP has a flute choir and a cello choir for adults and there are also several string chamber groups. Flute choirwill meet on Wednesday nights from 5:30-6:30pm and is taught by new flute instructor Meg Boucher. Cantus Celli is taught by Maggie Twining and meets on Tuesday evenings from 7:00-8:00pm. Instructor Dottie Case has also been coordinating string chamber music groups at STP.
There will also be a music theory class for 12 years old through adults. This class is intended to teach key signatures, circle of fifths, simple and compound meter, scales, intervals, and music terminology. This class is for anyone who simply wants to know more about how music is set-up or for someone who plays an instrument and wants to understand more about how music works.
Youth Classes
Soo Theatre has a class for every age. Music Together is for birth through age 5 with a parent or caregiver. Two different class sessions will be offered: one on Thursdays at 10:30am or Saturdays at 2:30pm. This class teaches parents how to make music all week long with their little one. It also teaches foundational musical concepts that the child can continue to use for years to come. Register for Music Together by August 28th and get 10% off the fall tuition.
First Steps in Music is for 5-8 year olds to learn basic music concepts such as pitch, rhythm, beat, and harmony. This is a perfect introductory class for any student and will be taught by Meg Boucher.
Youth Chorus is for youth ages 8-18 and is taught by Karen Hughes Beacom. In the past, this ensemble has performed on "A Laker Christmas" in December and for "Music in the Park" in June. More performance opportunities may be available depending on interest.
Vocal Performance Class is also taught by Beacom and is for 8 – 18 year olds to learn performance techniques for their solo repertoire in a relaxed and comfortable setting.
Beginning Piano Class for 8-10 year olds is a perfect way to introduce your student to the piano. Best of all it is an economical way to try to see if piano is a good fit for your student.
Introduction to Ukulele is also a great way to try something as a group to see if you like it.
Beginning Violin will again be offered at several local elementary schools for 4th-5th grade students. Call the office to see if your school is participating.
At the Soo Theatre, there's always someone for everyone! Visit our website for registration materials or call or stop in the office for more information. (906) 632-1930 OR sootheatre@gmail.com