After this weekend's The Somewhat True Tale of Robinhood, the Go Rounds of Kalamazoo are coming around…to Sault Sainte Marie! They'll be performing Thursday night, June 29.
But, first, The Somewhat True Tale of Robinhood, is a fun, humorous show with a performance tonight, June 17, and one more performance tomorrow, Sunday, June 18. It's a just gotta-see-it show! If you love to laugh, this is for you:
"It sure is hard to be humble when you're a swashbuckling, egocentric super-hero. But our gallant guy-in-green tries his best as he swaggers through The Somewhat True Tale of Robin Hood, a frantically funny, Monty Pythonesque retelling of the classic. This time around, the legendary legend, in his never-ending quest to aid the needy, encounters a lovely damsel-in-distress (oddly obsessed with skin conditions); an ever-scheming sheriff who would rather bowl a strike than hit a bull's-eye; a gold-hoarding, bad-guy monarch wannabe; and a good-natured "Town's Guy" who manages to make his way into every scene, whether he belongs there or not. Combine them with an expandable band of spoon-wielding Merry Men whose collective IQs equal six, and you've got an irreverent jaunt through Sherwood Forest you won't soon forget!"
The director, Lisa Dunn, has been conducting performances for decades now. She holds a B.A. in Theater Arts from Arizona State University. Lisa co-founded and ran the Les Cheneaux Education Foundation's Summer Theater Program in Cedarville for 20 years, and is now in her 16th year serving as the Les Cheneaux Community Schools Drama Club Advisor. Lisa has had the pleasure of director two previous productions at Soo Theatre Project, Carousel and Fiddler on the Roof.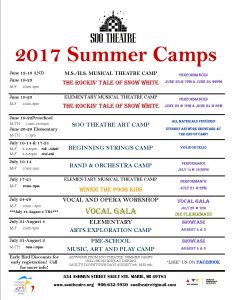 And also, The Soo Theatre Project is conducting its fun summer camps. There is still time to enroll yourself or your child in a summer arts opportunity by STP talented teachers. Art, dance, theatre, acting, and playing instruments! Let this summer be the summer you and your child learn something special that'll last a lifetime.
As promised, in 12 days, The Go Rounds are coming around! From the website: "The Go Rounds are bits of all your favorite bands exploded into rock and roll confetti. Their unique brand of psychedelic Americana pop crosses, blends, and deconstructs genres; from indie to country to art-rock and baroque folk; creating an accessible and engaging experience that will leave you talking."
Check out the website for more information and to hear a taste of this talented band at www.thegorounds.com.
"The Go Rounds are bringing a head-clearing common sense to the sometimes senseless head-banging of rock 'n' roll. Or maybe they're here to exterminate cynicism."– Paste Magazine

"The Kalamazoo quartet has been a dominant force in the Michigan music landscape for the last 5 years, releasing 4 LPs, 4 EPs, and playing countless Great Lakes music festivals….The songs are catchy, twangy, and trippy – led by the creative force of frontman Graham Parsons, whose spellbinding vocals weave through lush sonic textures as the band puts on a master class of intricate arrangements. Their powerful and dynamic live show has earned them a reputation as one of the best live bands in the Midwest."
Get your tickets now for The Go Rounds on Thursday, June 29 at 8 pm as part of the "Raise The Roof" Concert Series. "Sip and Support The Heartbeat of Downtown." Tickets can be purchased at Moloney's Alley Irish Pub on Portage Street or at The Soo Theatre Project's office on Ashmun Street.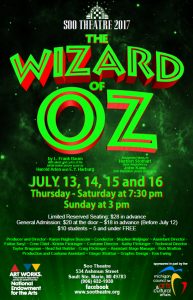 The Soo Theatre Project's summer musical, The Wizard of Oz, will be performed July 13, 14, 15, & 16 with Karen Hughes Beacom directing. Munchkins are singing, monkeys are flying, Dorothy is rubbing her shoes together, and the Tin Man is finding his heart as well as many other characters learning their roles in rehearsals. It is going to be another wonderful show at The Soo Theatre Project!
At the Soo Theatre Project, there is always something for everyone all year long. Call at 906-632-1930. Or, visit at 534 Ashmun Street downtown Sault Sainte Marie, MI. Or, like us on Facebook at Soo Theatre Project, Inc.