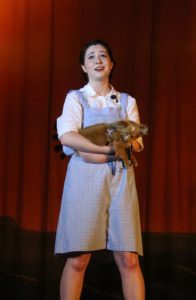 This is THE weekend for much excitement at The Soo Theatre Project! The remaining The Wizard of Oz performances are today at 7:30 pm and tomorrow, Sunday, July 16 at 3 pm. Come see what all the fuss is about!
An 88-person cast has been thrilling audiences since Thursday evening. Spine-tingling, goose bump-making songs such as "Over The Rainbow" and "We're Off To See The Wizard" as well as "Follow The Yellow Brick Road" are delighting the viewers followed by enthusiastic applause. Come see all the entertainment!
Lots of munchkins and monkeys are performing their roles to help unfold the story of Dorothy, Tin Man, Lion, and Scarecrow…and of course, Toto, too, as they learn where home really is.
From a desire for a more exciting life after a severe storm, Dorothy finds herself in a very different place, indeed. The Land of Oz is filled with strange people, flying animals, benevolent and malicious witches, mysterious spells, grand adventures, and unexpected new friends.
Dorothy, after being sent on an adventure, realizes that The Wizard is a profound disappointment, but finds another way home when he doesn't deliver on avowed promises. She is taught the age-old lesson that home has always been within her. Come see this endearing, classic tale and be reminded of where your home really is.
After so many wonderful summer camps this summer, there are still many more opportunities: Elementary Musical Theatre Camp beginning Monday with a camp-ending performance of Winnie The Pooh Kids on Friday, July 21 at 2 pm, Vocal and Opera Workshop beginning July 24 with a workshop-ending performance, Vocal Gala, Friday, July 28 at 7 pm, Elementary Arts Exploration Camp beginning July 31 with a camp-ending showcase August 4 & 5, and Pre-School Music, Arts, and Play Camp also beginning July 31 with a camp-ending showcase August 4 & 5. The public is welcome to attend all performances.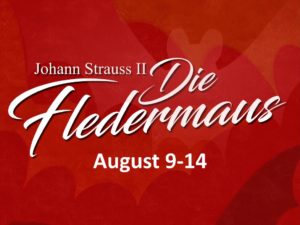 STP's Soo Opera is proud to announce their summer opera Die Fledermaus. A comedy set in English, "The Bat" is a story about revenge on an old pal for a prank played on the other friend. In a mixed up tale, involving a bored Prince, Countess in disguise and a culminating in a jail cell, the comedy set to the music of Johann Strauss, the Waltz King is sure to entertain. Karen Hughes Beacom returns to the stage with some of our favorite returning singers, Christopher Hollingsworth as Eisenstein, Dawn Krogh as Adele, J. Adam Shelton as Alfred, Thomas Gunther as Dr. Falke, Travis Richter as Blind, and Molly Dahlberg as the Prince Orlovsky. Save the date for Die Fledermaus August 9, 11, 13 at the Soo Theatre Project. Be sure to watch for Chamber Music Concerts put on by the opera orchestra musicians.
And, one more save the date event! Attend the SSM Downtown Days on Friday, August 4, 2017 and register for fall classes at The Soo Theatre Project's Fall Registration Sign Up event. Watch for STP's list of fall classes coming soon. Register early before the last minute rush during Sault Sainte Marie's Downtown Days on Friday, August 4 and sign up for fall classes and lessons. Let this year be the year you and your children learn something new.
The Soo Theatre Project offers much for everyone: concerts, shows, plays, musicals, opera, lessons, camps, and a "second family home" as well known by many who spend hours and hours at STP.
At the Soo Theatre Project, there is always something for everyone all year long. Call at 906-632-1930. Or, visit at 534 Ashmun Street downtown Sault Sainte Marie, MI. Or, like us on Facebook at Soo Theatre Project, Inc.