Bach in the Subways? As in, a train station?
Though Sault Sainte Marie, MI, does not have a train station that would be suitable for this type of event, we do have many locations around the EUP that can house Bach's music! So what is Bach in the Subways?
In 2010, a nation-wide movement began with Dale Henderson, a sole cellist playing Bach Cello Suites in a subway train station in New York City. His goal was to celebrate J.S. Bach's music near his birth date with an event that has since been titled "Bach in the Subways."
The idea behind the movement is to get musicians to play Bach's music in the subway or other public places (for free to all listeners) during the weekend closest to Bach's birthday. The reason? To share the joy and love of Classical Music with people who otherwise might not have the opportunity to hear it; and hopefully, in turn, creating a love for Classical music.
This spring, several of our performing groups at the Soo Theatre Project and STARS, directed by Dottie Case and Maggie Twining, the Algoma Conservatory of Music Violin Ensembles, directed by Anya Mallinger, and individual students and faculty will be joining Bach in the Subways with performances of his music around the EUP Friday, March 18 through Tuesday, March 21st. March 21st celebrates 326 years since Bach's birth! And the music we have heard through the ages is glorious!
Though the idea of Bach in the Subways is for music to spring up spontaneously and in random public places, because the Soo Theatre values their students participating in this event, we are publishing these dates and locations so that all can hear Bach free of charge, and support our young people learning from Bach's music.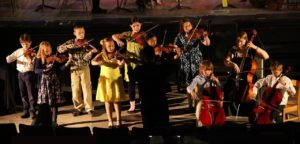 Here are the times and locations that Bach will be springing up in the Eastern Upper Peninsula this week.
Friday, March 17th, 4:00-5:30pm, Bayliss Public Library (though not an official "Bach in the Subways" date, we will be playing Bach during this event)
Saturday, March 18th, 10:00-11:30am, Bayliss Public Library
Sunday, March 19th, 1:00-2:00pm, Station Mall, Sault, Ontario
Monday, March 20th, 10:00-11:00am, LSSU Arts Center
Monday, March 20th, 11:00am-12:30pm, LSSU Cisler Center, Quarterdeck
Monday, March 20th, 4:30-5:30pm, LSSU Cisler Center, Quarterdeck
Sunday, March 26th, 2:30-3:30, Public Library, Sault, Ontario
In addition to these public performances of Bach's music, many of the EUP schools have allowed students and/or faculty to come and play Bach music either at the beginning or end of the school day or during lunch. Schools we will be visiting for Bach in the Subways include: Sault High School, Washington Elementary, St. Mary's, Soo Township Elementary, Brimley, Les Cheneaux, Rudyard Area Schools, and Rudyard Christian School.
As if that isn't enough music for one weekend, the Soo Theatre Faculty will also be performing a Faculty Recital on Sunday, March 19th at 4:00pm at St. Mary's Pro Cathedral. The Faculty Recital is not a Bach event, but is an opportunity for our Faculty to showcase their fine talent and a way to make music together as ensembles.
Our faculty spends a large portion of their time teaching and training students to be young musicians. The main reason they are teaching is because they themselves have a love of music and need opportunity to perform together. As teachers, we stress to our students the importance of working on a piece of music for the purpose of polishing it for performance. We encourage them to perform for parents and friends. And likewise, our faculty enjoys the opportunity to perform for students, friends, family, and all who are looking for a musically enlightening experience.
Admission is by donation and a large portion of the donations from the Faculty Recital will go to a newly formed scholarship fund to help students who otherwise could not afford private lessons, classes, or camps. Bring a friend! You won't want to miss it!
Faculty to perform include Amy Clegg, Karen Hughes Beacom, Dottie Case, Benjamin Gulder, Anya Mallinger (guest Faculty from the Algoma Conservatory of Music), Betty Struble, and Maggie Twining.
What a weekend!